Unknown label
Unknown label
Digital Intelligence Conference 2014 : first international scientific event dedicated to the study of emerging Digital Cultures
Du 17 September 2014 au 19 September 2014
For the first time, leading international Digital Cultures experts will meet as part of the Digital Intelligence Conference 2014, from 17 to 19 September in Nantes. Organized jointly by the Universities of Nantes and Laval (Quebec) and strongly interdisciplinary, this gathering aims to be the first international scientific event dedicated to the study of emerging Digital Cultures.
For the first time in France, Digital Intelligence 2014, held in September in Nantes, will bring together the leading figures in Digital Culture from top universities (Harvard, UC Berkeley, MIT, ...) and world renowned companies/startups and associations (FlickR, Microsoft, etc.). Interdisciplinary in nature, the event aims to help develop a new scientific and cultural paradigm on digital intelligence focusing on different themes including digital art, digital data, e-commerce and digital management, social networking, digital identity, e-learning and MOOCs, sustainable digital economy, emerging digital trends and practices, human-computer interaction, cobotics, digital humanities and more.
Digital science and technologies are deeply transforming our social structures, our relationship to knowledge, culture, territories, society, and even the very construction of our identities. Although digital tech is a driver of innovation and social progress, it also raises concerns because it carries potential risks for future societies at the societal, economic, technological, health and legal levels.
A Nantes/Quebec Partnership
The internationally renowned research conducted by the universities of Nantes and Laval, long-standing partners, has largely contributed to the choice of Nantes as the venue for the conference in 2014. The pilot projects conducted in Nantes on digital culture in the Creative Arts District echo those conducted in Quebec City on the creative industries in the Saint-Roch district. The second conference will be held in Quebec City in 2015, under a partnership formalized October 15, 2012 that brings together Nantes Métropole, the City of Quebec and their respective Conference Centers.
The conference focuses strongly on the local and (inter-)regional digital ecosystem (entrepreneurs, associations, local institutions, artists, etc.) and also aims to facilitate and promote creative interactions and discussions challenging the traditional view of the relationship between the Arts, Science and Economics. #di2014 is part of Nantes Digital Week coordinated by Nantes Métropole, which includes the Scopitone digital arts and electronic music festival as well as many other events involving all those involved in Nantes' digital ecosystem: Startup Weekend, Media 2030, Scopitone 2014 - Festival of Cultures Electronics & Digital Arts, FabLab Day, the "Heritage & Digital Tech" exhibit at the Château des Ducs de Bretagne and the first meeting of the Cantines Numériques of France.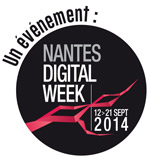 Download
Twitter
Follow Digital Intelligence 2014 on Twitter
@DIConf2014
and
#DI2014
Mis à jour le 08 December 2014 par Julien PATRON.